10 Thai Desserts You Must Try In Thailand!
Thai food is famous for its flavorful character that we all familiar with. Those layers of flavors have make Thai food so easy to find wherever you are in the world. But what about Thai desserts?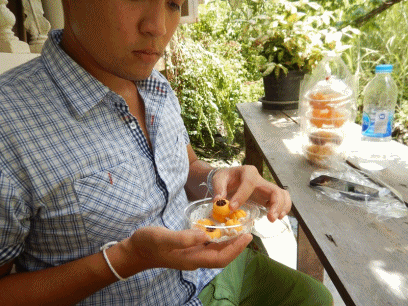 We are not here to talk about Mango Sticky Rice that you can find pretty much every Thai restaurant in your city. Although we LOVE it very much, we are here to talk about Thai bite size desserts that you will find when you walk and explore Thailand. Let's start shall we?
1. Golded Desserts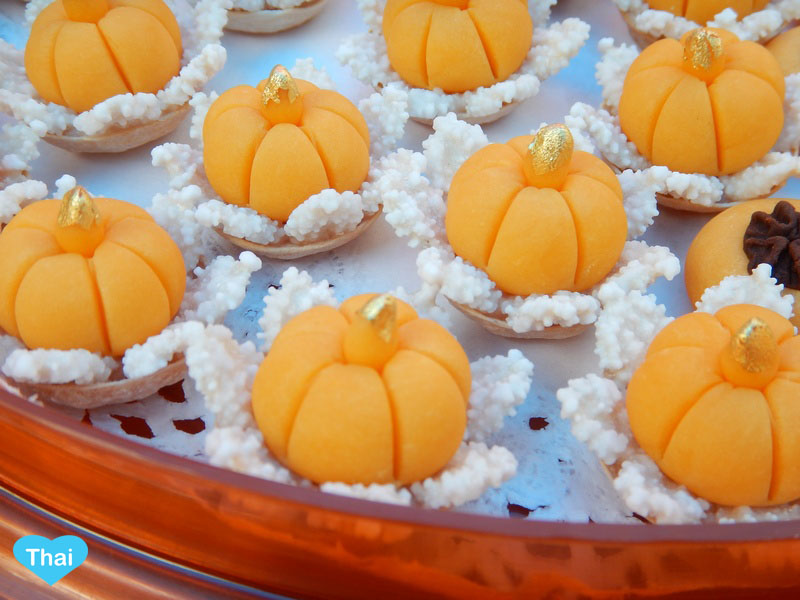 A gold is a symbol of wealthy & luck in Thailand. So why not apply gold to desserts! That's why Thai people like to have these lucky desserts in weddings, ordinations, and other religious ceremonies. The famous examples are Ja Mongkoot (Golden King Crown – picture above), Thong yot (Sweet Golden Drops), Foi thong (Angle hair or Egg threads.) You know what … we are not going to make the English names up because they can confuse you. Just point which ever you would like to try and have fun exploring. Just keep in mind that most of these golden desserts are made from egg yolk. So you know what you are getting into (yesssss … a lot of calories!)
2. Khanom Chan (Multi-Layers of Pandanus)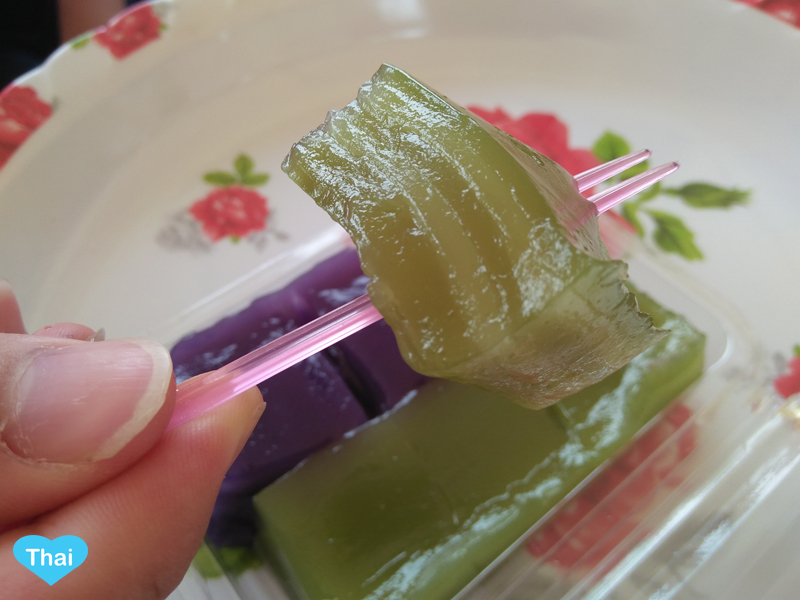 One of the lucky desserts that is very popular among Thais everywhere in Thailand. Authentically, you can find the dessert consists of 9 layers because number 9 is considered as a lucky number in Thailand. But chances are you will find them with less than 9 layers. A cute belief of this dessert is when you eat them a lot, you will get promoted since layers are like levels at work. Now you know what to do if you want to be a manager at your company. Just go to Thailand and eat Khanom Chan!
3. Look Choop (Delectable Imitation Fruits)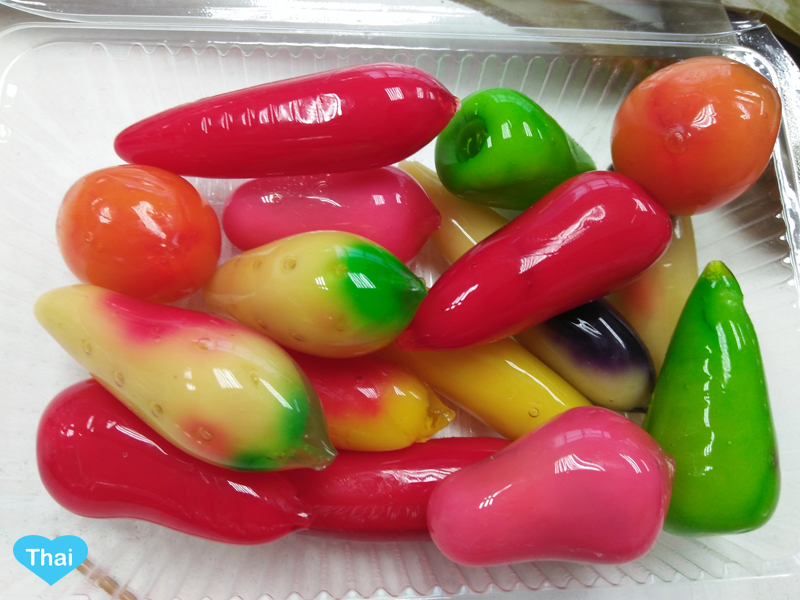 This is by far the cutest Thai dessert in our opinion. Look Choop is made from mashed green beans with sugar. After molding to look like tropical fruits, it will be coated (Choop means coating) with a thin layer of jelly. This bite size desert is basically Thai art that you can consume!
4. Bua Loi (Floating Flour Ball in Sweet Coconut Milk)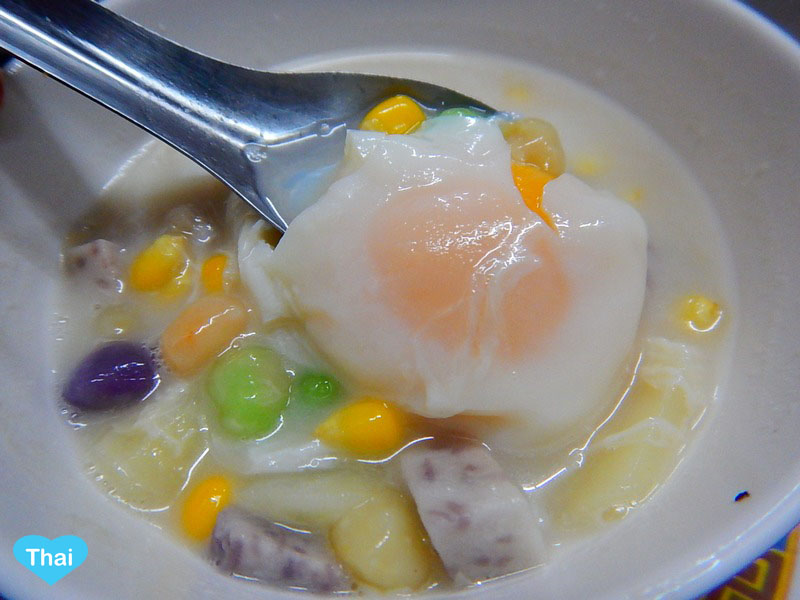 Bua Loi is made from sticky rice flour. It looks like tiny bowl with colorful snow balls in sweet coconut milk. Locals eat this dessert when it is still hot. So it's not wrong to say this dessert will make you feel like you are having comfort food but sweet. Thais LOVE to put a half boiled egg in the dessert. And we call it Bua Loi Khai Waan (floating lotus with sweet egg.)
5. Khanom Bueang (Thai Crepes)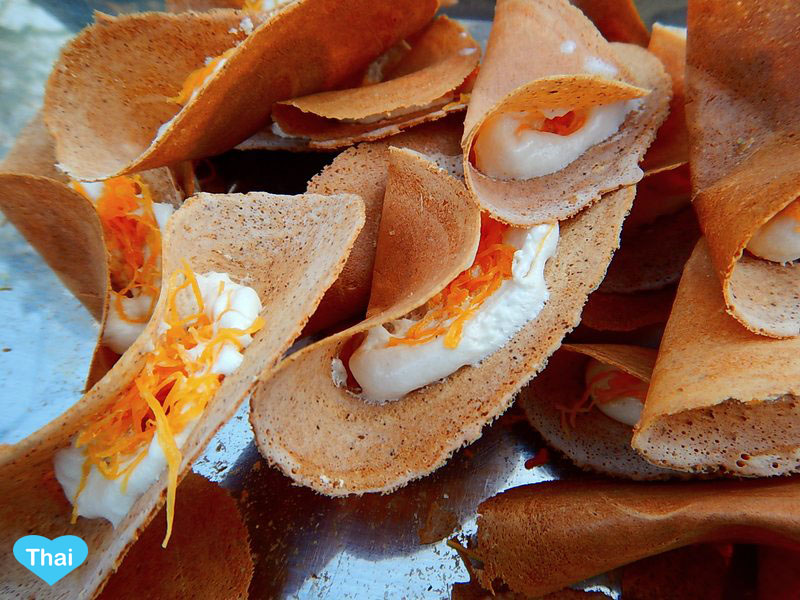 Hello cream lovers out there! This is for you guys! This is a very crispy crepe with cream and sweet coconut on top. Many place use Foi thong (Angle hair or Egg threads from number one) instead of coconut to be an option. This is probably the most convenient dessert since it's not messy and it's so easy to find on the streets in Thailand.
6. Khanom Sordsai (Steamed Flour with Coconut Filling)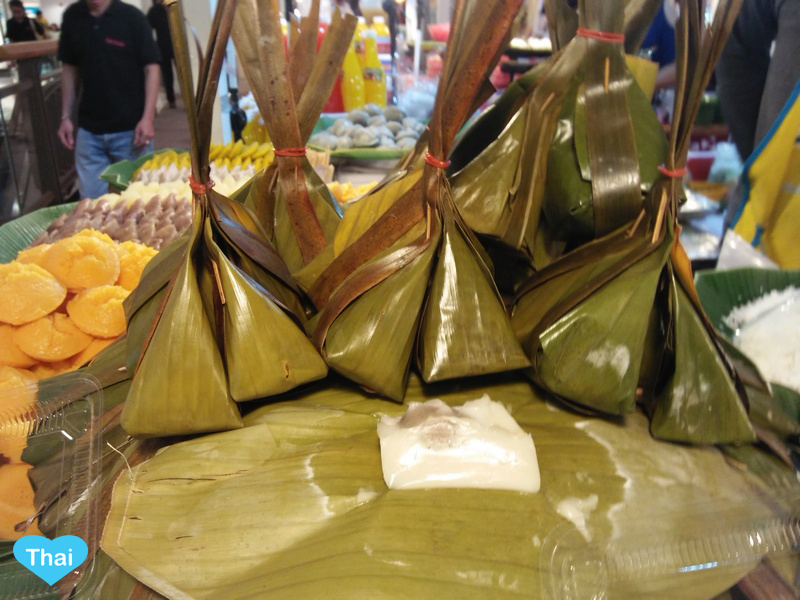 Khanom Sordsai is made from flour and coconut milk from the outside. This makes the outside of the dessert melt on your tongue! With coconut filling, this is a very perfect combination with smooth flavor. You might not find it easily on the street, but isn't this an exciting challenge for an explorer like you?
7. Khanom Tan (Palm Flavored Mini Cake with Shredded Coconut on Top)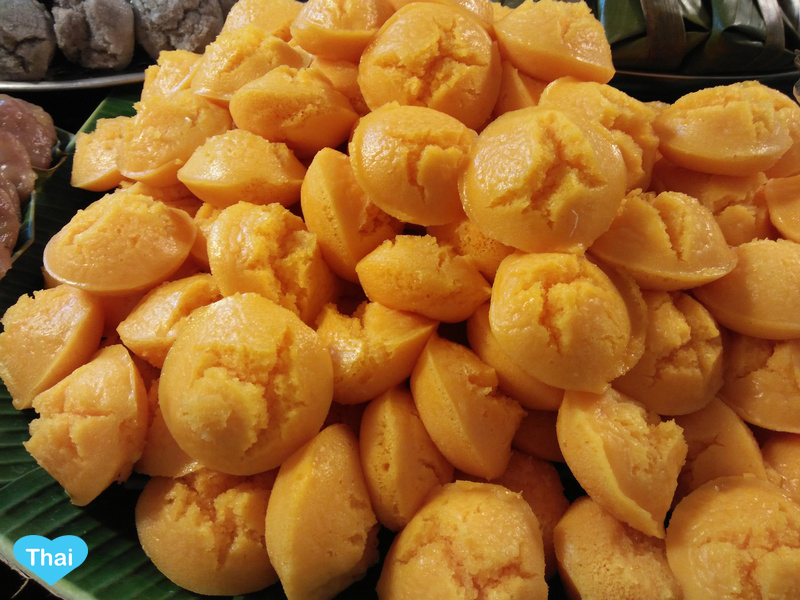 This is a very traditional dessert that is made from flour and a very unique type of Thai palm tree's fruit. By now you know why it's golden.  And because this is quite a traditional dessert, it's not so easy to find. But if you go to have the authentic Thip Samai Pad Thai restaurant, they sell this right in front of the place where you wait to be seated.
8. Mo Kaeng (Sweet Baked Pudding)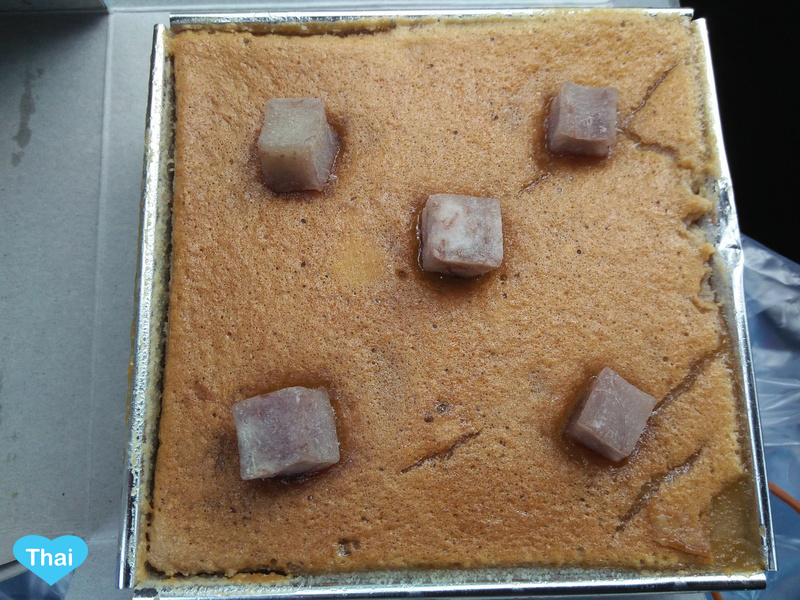 This popular dessert is mainly made from egg and sugar. It serves such a smooth and sweet flavor to your tongue. If you a pudding or custard guy, this is just for you!
9. Kanom Khrok (Coconut-Rice Pancakes)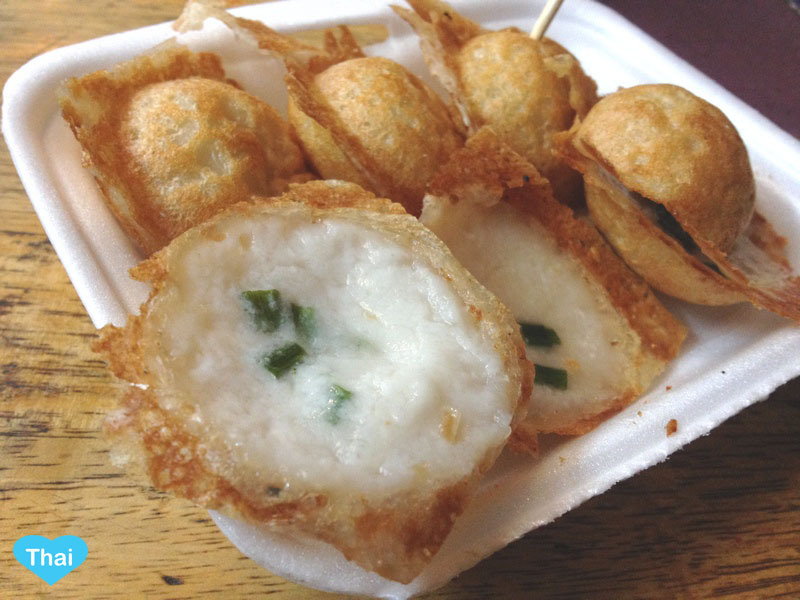 Yep this is a pancake. But it's a dessert pancake! And nope we don't have this for breakfast. This is one of the most common dessets you can find in a corner of the steer in Thailand. For coconut milk lovers, this is your choice of dessert! And it's Very easy to find. But once you find it, DO NOT eat it right away if you don't want to burn your tongue. The pouch shape really holds heat!
10. Lot Chong (Pandan Flavoured Rice Flour Noodles in Coconut Milk)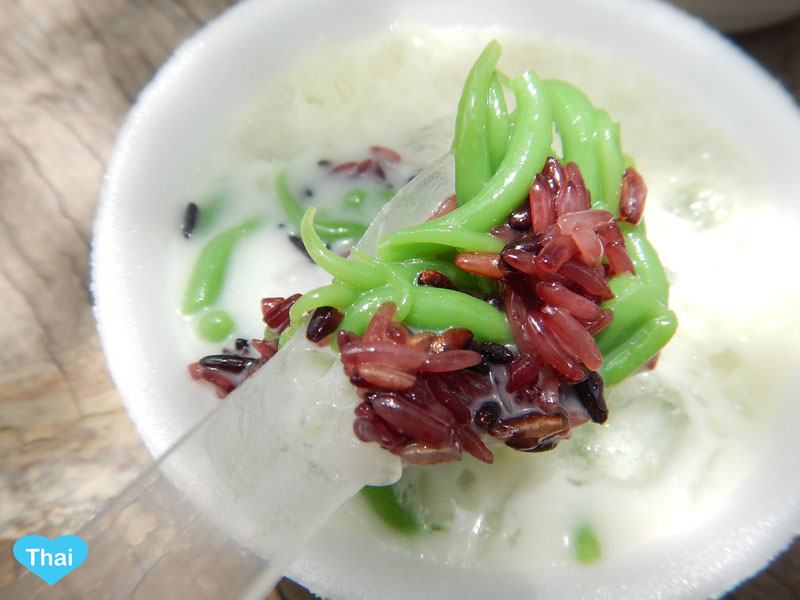 There is nothing better than having Lot Chong in a hot night in Thailand (which is pretty much every night.) Pandan will refresh you more than anything in a tropical land! This dessert seems to be something that's hard to find. But it's surprisingly easy to find especially in famous travel site like floating market or any Thai market. You just need to take our time and explore them!
As you might know by knew by now, Thai desserts are not just desserts. They have their own unique characters. They are not only foods, indeed, they are art that Thais have shaped them to food. Although you will not see Thai desserts everywhere in Thailand like Pad Thai, but if you take your time looking around in restaurants and food stalls while you explore Thailand, you might be surprised with these hidden gems.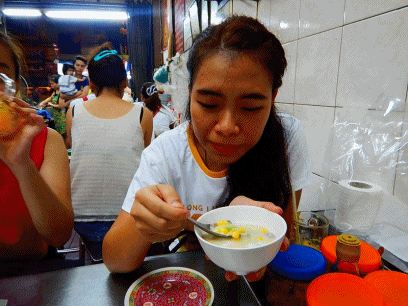 Don't forget to share your Thailand experience with us and the world by using #LoveThaiMaak on your favorite social media. We can't wait to see you have a great time exploring!