Boat Noodles At Victory Monument, The Center Of Bangkok
Victory monument, The heart of Bangkok, is the center of Bangkok's transportation (Bangkok's public buses, minivans to nearby cities like Hua Hin or Mae Klong , and Bangkok's SkyTrain or BTS) as everyone knows. For locals, the Victory Monument is also one of the best places for cloth shopping in a very cheap price!  And for local foodies, it's the most authentic place to have a boat noodle in Bangkok!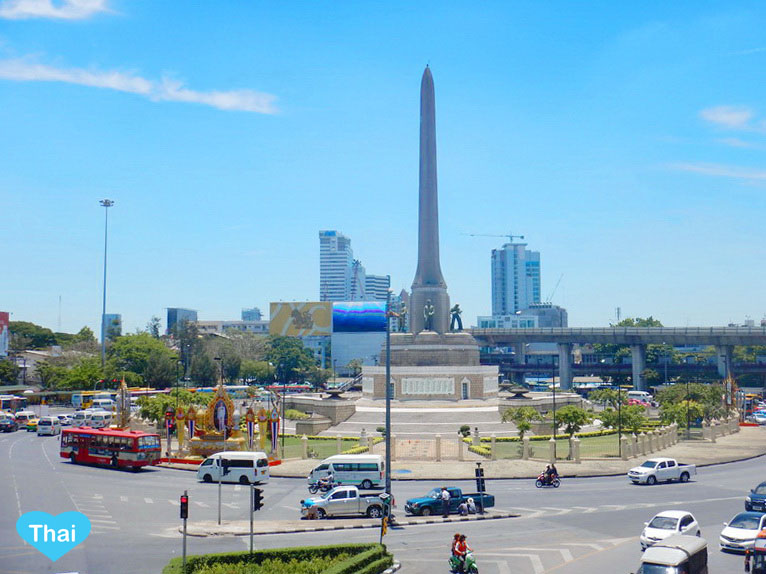 Boat Noodle or Kuay Tiew Reau (ก๋วยเตี๋ยวเรือ) is one of the most popular (if no the most) noodle soups in Thailand. Most of the time all, Thais will understand that there will be a nice dark colored soup from (exotic alert!) pig or cow blood. But you can also order in the noodle in a clear soup or even spicy soup or Tom Yum as well.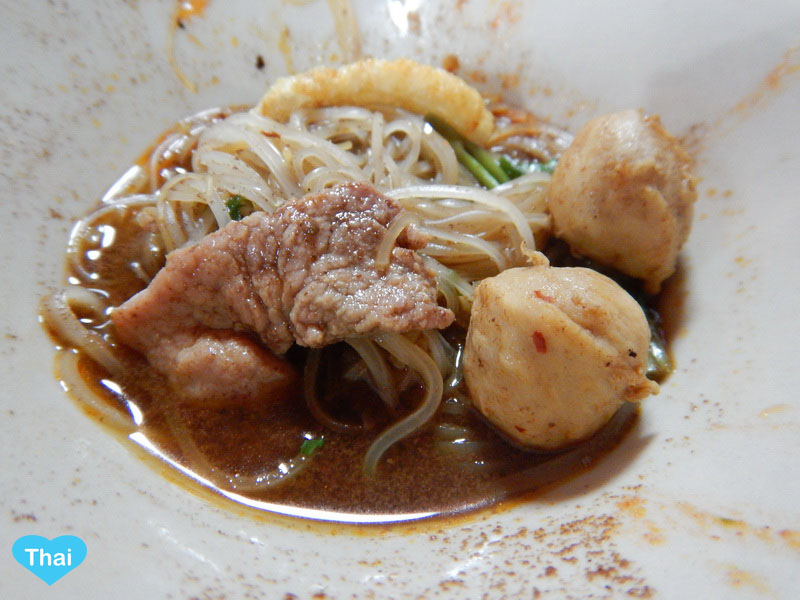 Why Is It Called Boat Noodle?
Boat Noodle is a common/every food that has been in with the Thais for a very long time. It started when Thailand had a big flood after the war in the 40's. water transportation became the most convenient way to trade food in Bangkok. Plus Thailand had to send 1.5 million tons to England as the two countries had agreed. And that made Thailand had a problem in not having enough rice for Thais. The government saw that problem then try to support noodle consumption in Thailand instead of rice. The government, however, try to add Thai identity in this noodle eating culture from China. And Thai's how many famous Thai noodle dished were born (Boat Noodle Soup, Pad Thai, etc.)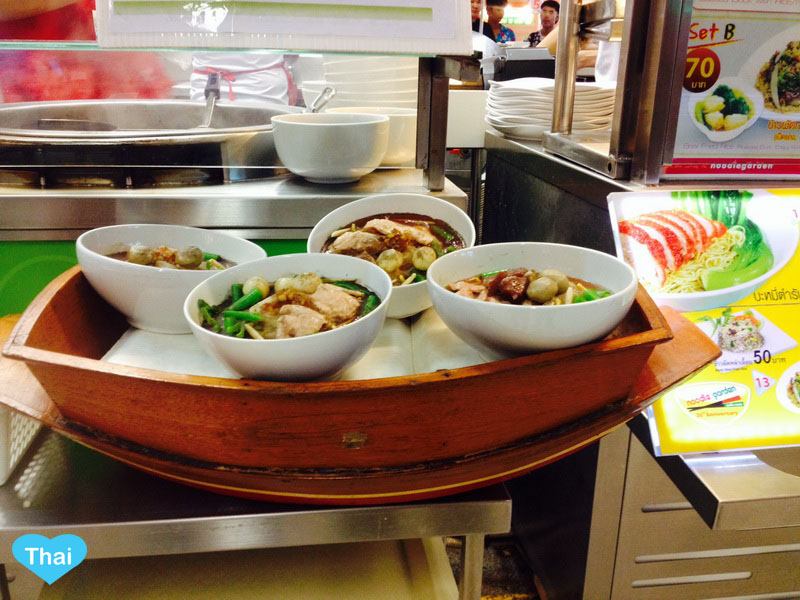 Even though Thais are not using water transportation as in the history, instead, they still keep and have a boat on from of a boat noodle restaurant for telling what they are selling.  You can still get some boat noodle that is actually made in the boat in places that have a lot of waterways like Amphawa (where the famous floating market is.)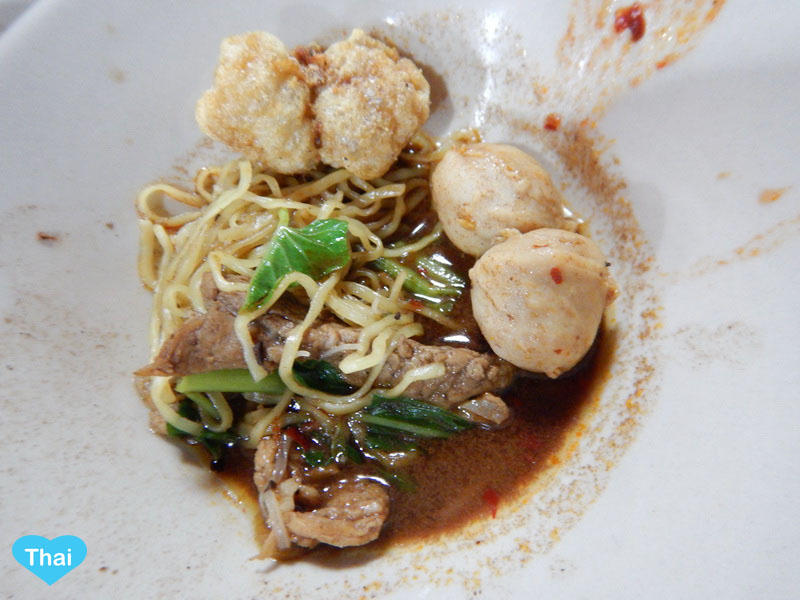 Why Is A Boat Noodle Bowl So Small?
Although you might find a big bowl of boat noodle in some places, many place are still using a small bowl for the boat noodle as it was very convenient in selling right from a tiny boat.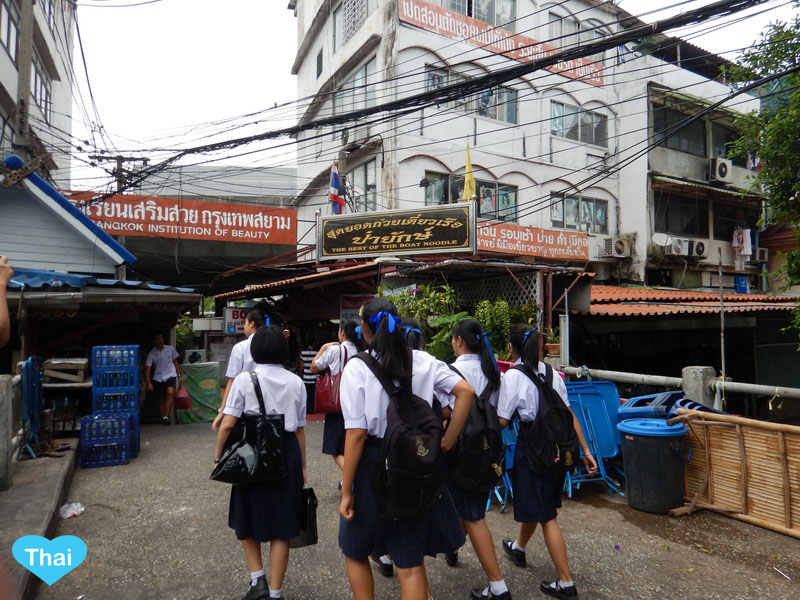 Now let's go back to Victory Monument where Bangkok locals go for the famous boat noodle area. There are many boat noodle restaurants at Victory Monument. All of them are located in the North Eastern Corner of the monument next to the Fashion Mall.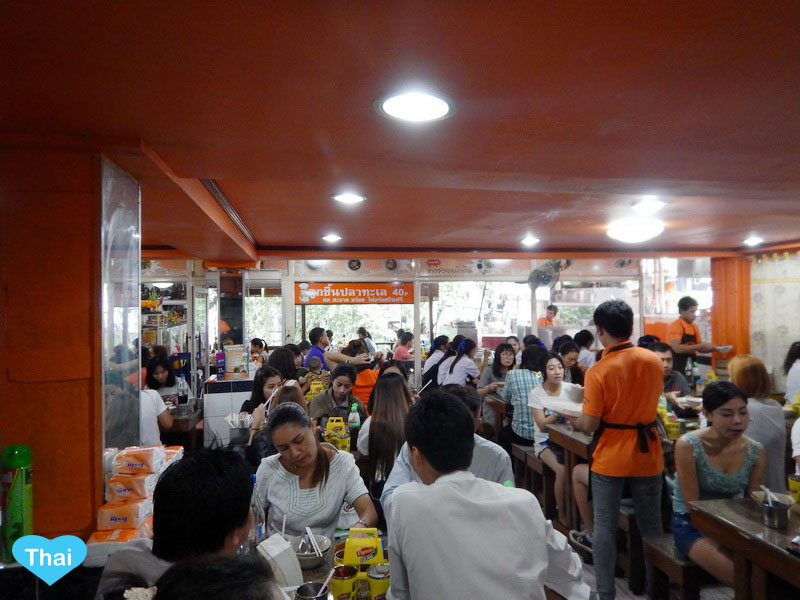 We have tried almost all places and they are not so different in term of the taste of the noodle. They all still keep the taste of authentic and original boat noodle. So no matter which place your pick, you are going to taste a Bangkok's boat noodle experience which is quite different from other places in Thailand.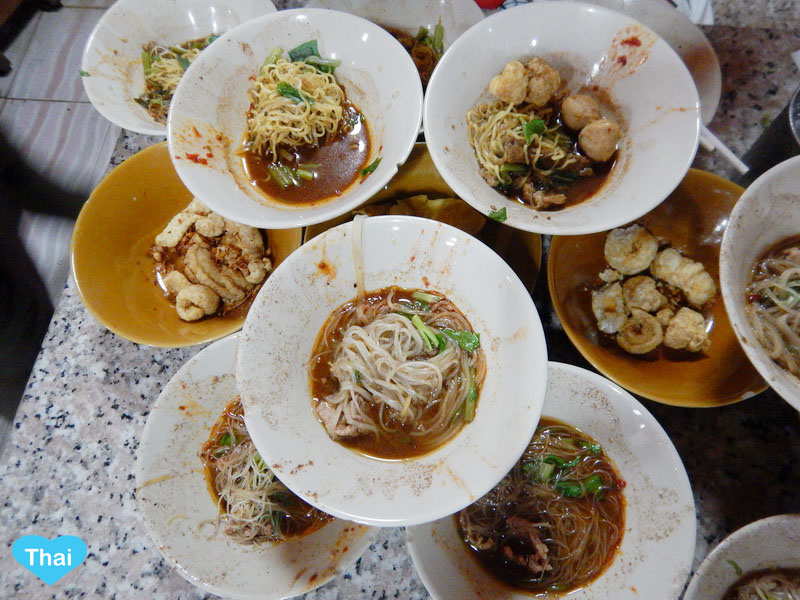 Love Thai Maak Travel Tips:
Choose a place where you can sit inside an air conditioned room. It's Bangkok and it's always HOT!
It's a very fast-paced and crowded food experience. So don't expect a menu, clean restroom, and perfect hospitality.
If you don't speak Thai, we recommend you to order in front of the place where they make noodles so you can point out which types of noodles and soups you want before get seated.
Don't forget to try crispy deep fried pork skin (pork rinds) with the noodle. They are the best combination!
Most places offer a promotion that if you order 20 bowls of noodles, you will get a free big bottle of soda. And that's the reason you will see many people go as a group, so they can get a good deal.
They serve noodle in a tiny bowl. 4-5 bowls here equal 1 normal bowl in a typical restaurant. Keep that in mind when you order.
Be open minded with the experience, it's unique and somewhat adventurous 😉