Things To Do In Thailand: Bangkok's Snake Farm
Snake Farm or Suan Nguu (สวนงู) is located within Queen Saovabha Memorial Institute in Bangkok. The institute is Thailand's husbandry of venomous snakes and the research and extraction center of snake venom. Sounds like this could be a research center in the middle of nowhere? Not at all! In fact, the Snake Farm is located right in the center of Bangkok!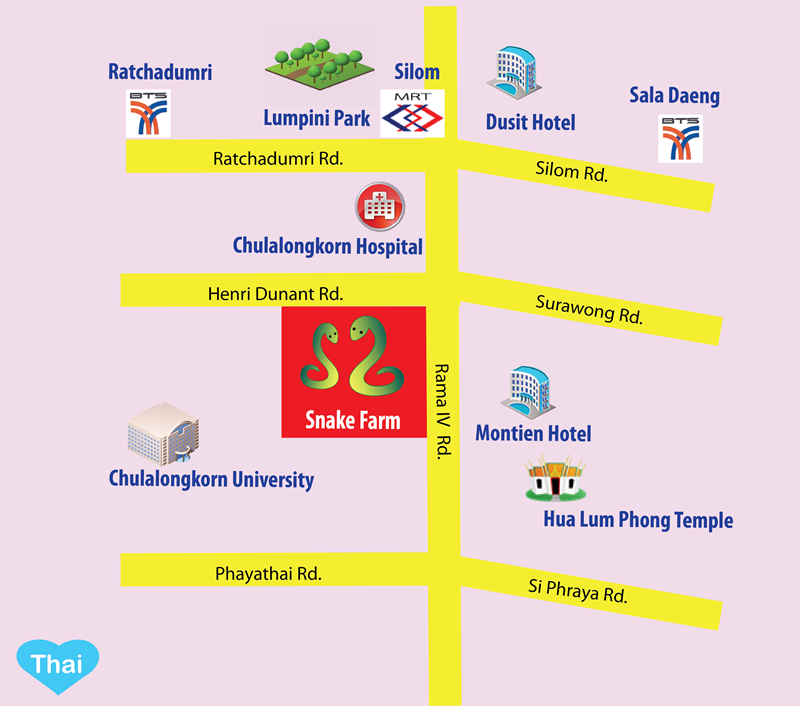 Another Bangkok's Zoo? Not Really.
Snake Farm is a very educational spot in the heart of Bangkok (between Sam Yan and Silom MRT station or Saladaeng BTS station.) that makes it very easy to get to.  Here at the farm, you will be walking through how vaccines were made from venomous snakes. Along the venom extracting demonstration, you will also witness how Thai staffs handle snakes and what you should do if you happen to see those snakes in real life. It's IMPRESSIVE!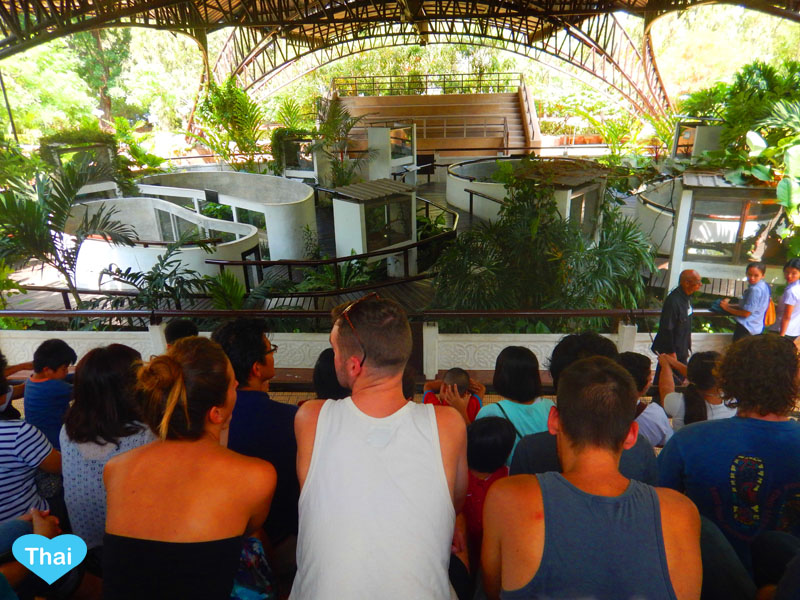 The main Snake Farm facility is divided to be two main parts.
Outdoor: There are tropical snakes (in cages) and the main stage for snake handling show (with bare hands!)  
Indoor: There are more than 35 species of snakes. Walking through the indoor facility, with will learn snake's evolution and biology. The heart of the building is a big classroom like stage for venom extraction demonstration. How informative and cool!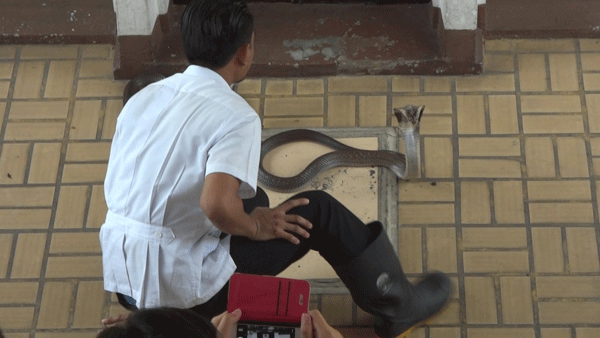 The Best Time and Day To Visit Bangkok's Snake Farm
When planning to visit Bangkok's snake farm, you have to carefully plan because there are only 2 shows a day (weekdays) and one show on weekends and holidays.
Monday – Friday: 2 Shows
11 am – Venom extraction demonstration in the indoor facility (30 minute show)
2:30 pm – Snake Handling Show
Weekends & Holidays: 1 Show
11 am – Snake Handling Show
The Snake Farm Open 9:30 am – 3:30 pm on Monday – Friday and 9:30 am – 1pm on Weekends and Holidays
With a small fee around $6 for adults and less than $2 for children, but you leave the snake farm with tons of knowledge and entertainment. Plus a chance to see rare snakes like Cobras and even King Cobras, Bangkok's snake farm is definitely worth your time to visit.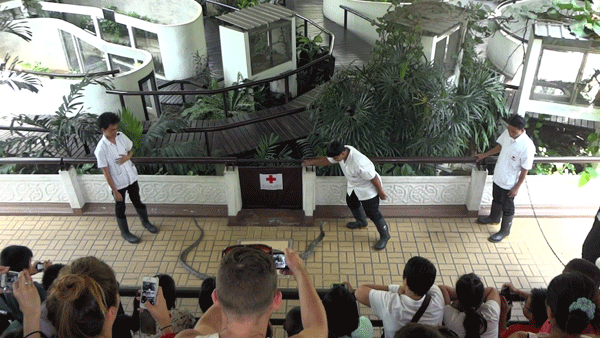 Love Thai Maak Recommended Bangkok's Travel Route:
Siam Square – Snake Farm (Venom Extraction Show) – Chulalongkorn University – Snake Farm (Snake Handling Show) – Lumphini Park – Night Market in Silom
Start day with light meal or shopping at malls and stores in Siam Square. Then head to the Snake Farm for the venom extraction show. Take a break by walking around Chulalongkorn University, Thailand's Oldest University, that's located right next to the farm and have a lunch at any of cafeterias in the campus. Head back to the snake farm for the snake handling show. After the show, head to relax in the late afternoon with Bangkok's residences at Lumphini Park (2 blocks away.) After the sunset, cross the street to Silom area for one of The Most Popular Night Markets in Bangkok. Have fun!