Things To Do In Bangkok: 3 Must-See Shrines In Ratchaprasong
There are many more things to explore, feel and taste in Rachaprasong than shopping malls. In this center of Bangkok, there are gems that many people sometimes forget to stop by when getting lost in a huge shopping mall like Central World. These gems hold fait and belief of not only local, but more than half of Asians!
Phra Phrom (Erawan or God of Fortune)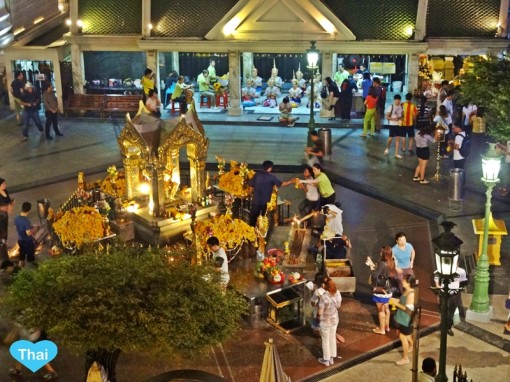 Phra Phrom  is located right at Ratchaprasong intersection.  From BTS Chidlom, use the Exit 1 or 2 then walk to intersection Phra Phrom will be on the left side. At this shrine, Thai people come to pray for luck, money, happiness, success for work and study. And because of Phra Phrom has four-faced Brahma, locals use 4 white lotuses or 4 garlands and 12 incenses (3 incenses for each side). The belief is that Phra Phrom will come to the shrine in  the evening, so there will be a lot of people after the sunset. In return after a wish comes true, Thais dedicate a coconut, a wooden elephant, a long garlands, and a Thai dance troupe.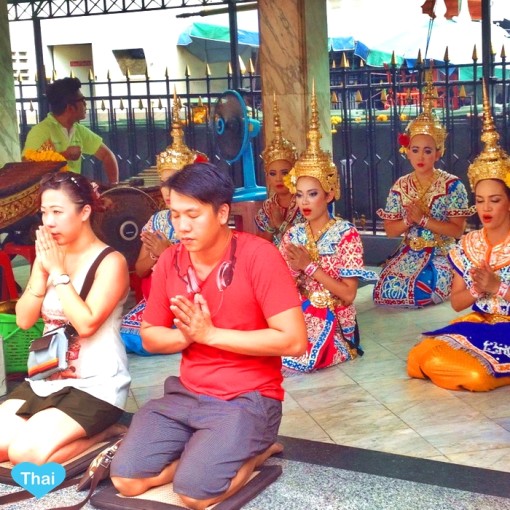 Phra Pikanet (Ganesha or God of Success)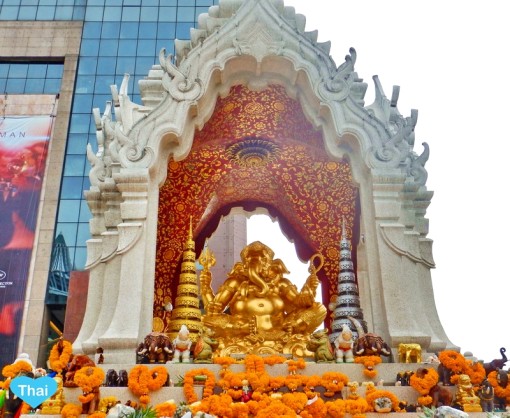 From Phra Prom,  walk across the street to Central World Shopping Mall. Phra Pikanet is located in front of Isetan (the very far right of the mall.) Thai locals pray for success particularly in work, getting a new and better job, expanding businesses so there is no doubt that merchants and entrepreneurs love to respect to come to Phra Pikanet. Locals offer  fruit (banana, coconut or cane), golden garland, and 9 incenses as they pray
Phra Trimurti (God of Love)
Trimurti is located just right next to Phra Pikanet in front of the Central World. Thai locals believe that Phra Trimurti will help finding true love, fixing broken love problem. They believe that the best time for praying is 9.30 am and 9.30pm on Thursday so you can expect to be crowded around that time. And because of Phra Trimurati is the god of love, locals use 2 red candles, 9 red incenses,  red rose, red food such as rambutan, apple, dragon fruit, grape, and strawberries Fanta.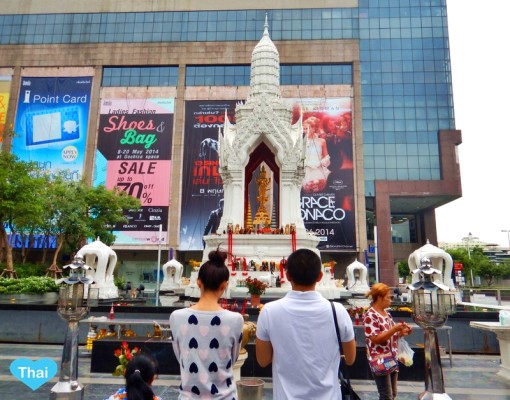 Warning:       
1. Be careful of other people candles and incenses as well as yours not to hurt others
2. The price of garlands and flowers around the shrines might be pricy, so get them at the other local markets if you happen to be before come to the shrines
Rate price for a small garland is around 10-20 baht, a big garland is around 60-120 baht