Things To Do In Bangkok: The Hidden Photo Spot of Taksin Bridge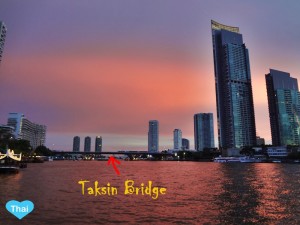 There are so many things to do in Bangkok you can go take those actions by just taking a convenient skytrain. And if you have ever taken Bangkok Skytrain, aka BTS, you might remember Taksin Bridge Sation where is also the hub of Bangkok water transportation as well as the first road in Bangkok called "Charoen Krung". But there are only few people (beside locals) knew about one of the best photo spot of Chao Phraya River which is right there on the bridge.
To get to the bridge is very easy. Once you get of the BTS station, walk to Sathorn (Taksin) Pier. Just right there in front of the pier, you will see tall stairs both sides of the bridge, and that's it, you are on the bridge. We recommend you to go up both sides for different views. Enjoy non-crowded but cool Bangkok spot!