Only In Thailand: Foreign Fast Food with Thai Hearts
"What?!? You go all the way across the world to have fast food in Thailand?"
That might not be such a bad idea. We are not talking about double cheeseburger. Here at Love Thai Maak, we are talking about Thai flavored fast food that you can't find anywhere in the world but Thailand.  Add this to your things to do in Thailand, you are going to have a pretty interesting travel experience. Remember travel is all about open your mind 🙂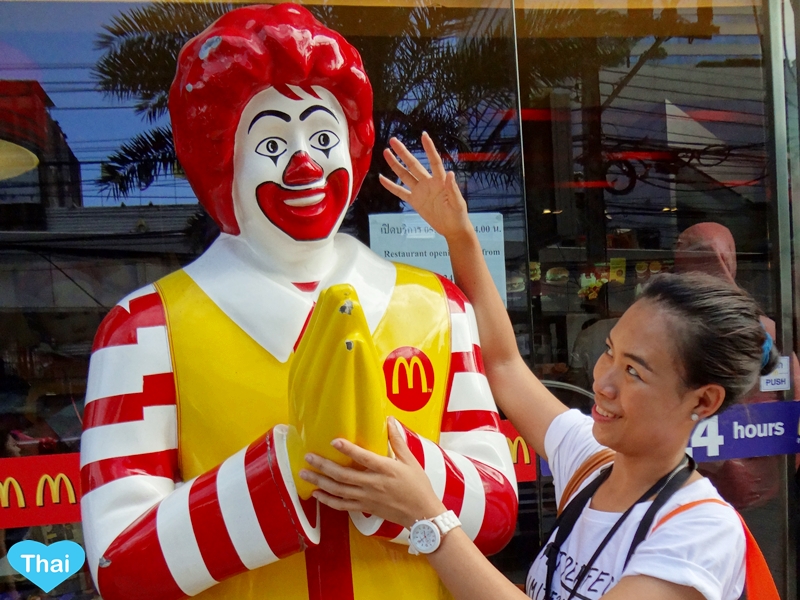 Although you can find authentic Thai food right on every corner of the street, but here are couple reasons you may want to consider trying Thai dishes in foreign chain restaurants in Thailand.
You can't deal with heat and humid weather so well – It's not easy to eat something while sweat is dropping from your chin.
 Long shopping day in a mall – Great for rest your legs while fill up your belly.
 You want to have a milder version of Thai food, but you are afraid of unpredictable stomach – This is a great idea if you will be on long train or plane rides in the next day.
Shall we talk about our Thai Fast Food recommendations?
Spicy Chicken at KFC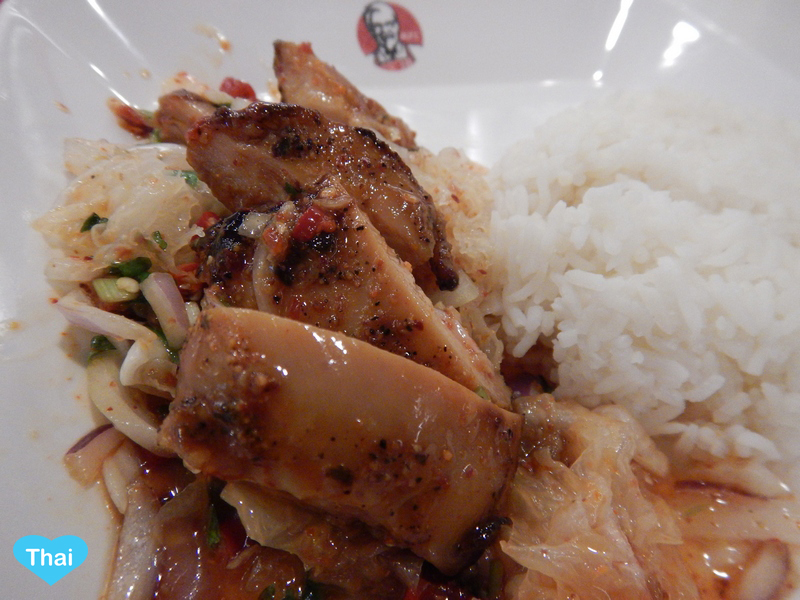 Everybody has tried this famous food chain fast food. Like it or not KFC in Thailand gives you such a unique experience with their Thai Spicy Chicken dishes. No it's not the same as spicy fried chicken you can get in the USA or other parts of the world. It's very (Thai) SPICY and SOUR which is made for Thai locals.  As people who grew up with Thai food, we must say this is really good with the real Thai flavor. We have to warn you it might be a little bit too spicy for westerners, so be careful when choosing the level of spiciness.  Spicy Roasted Chicken Rice, Green Curry Rice, WingZ Zabb (Isaan Spicy Chicken Wings which is a real deal!) are popular here.
McDonald's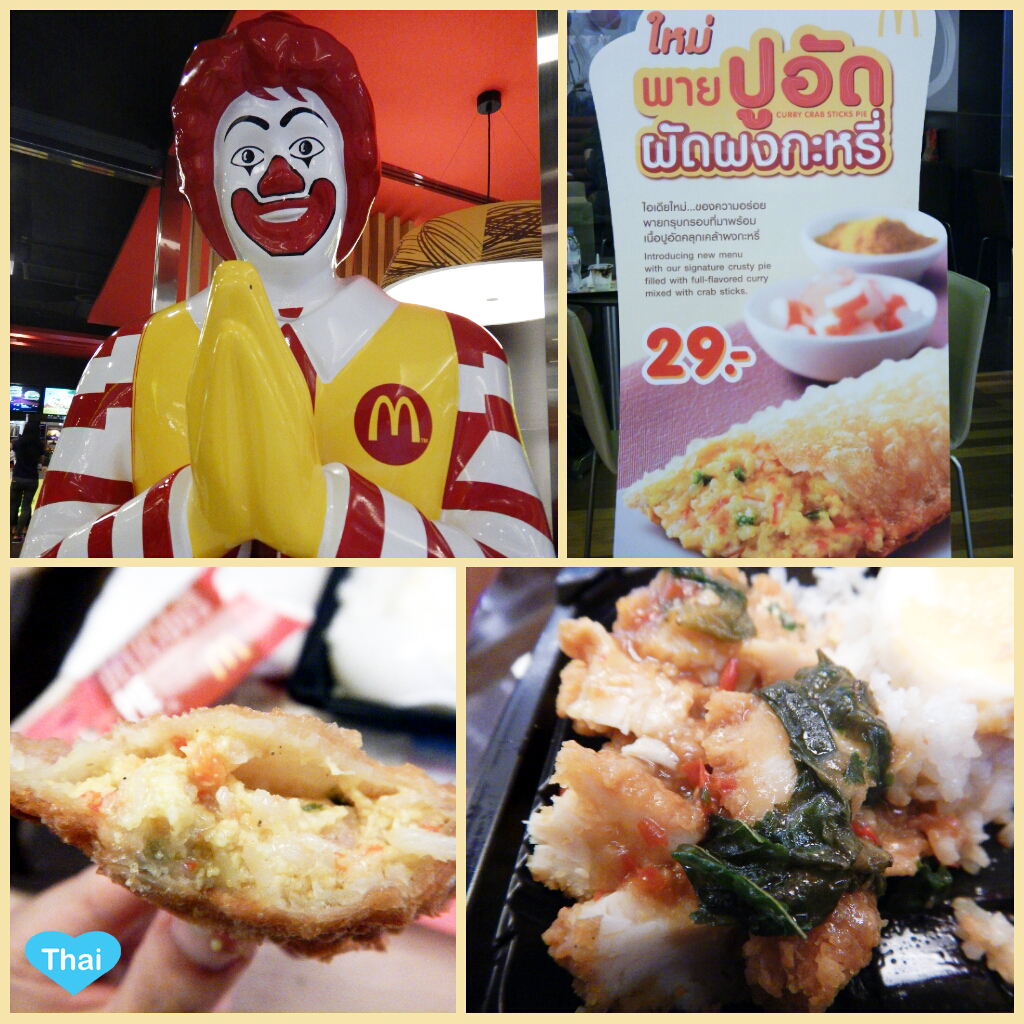 McDonald's  has be known for their very fast food. Thai McDonald's also gives a grab and go experience. They have one of the most popular Thai dishes for working locals "McKao Kaprao" (Rice topped with stir-fried meat and basil.) You can choose chicken, pork, or beef as your like. Pad Kaprao (Stir-fried basil)is not the real Pad Kaprao without a fried egg , and yes McDonald's offers that option as well.  Thai McDonal's is also famous for their crispy pies. And once in a while, they will have a special pie like PuuAat Pad Phong Kari or (crusty pie filled with full-flavored curry mixed with crab sticks.) We are not so thrilled with this pie. But for less than $1, it's worth for a cool experience.
The Pizza Company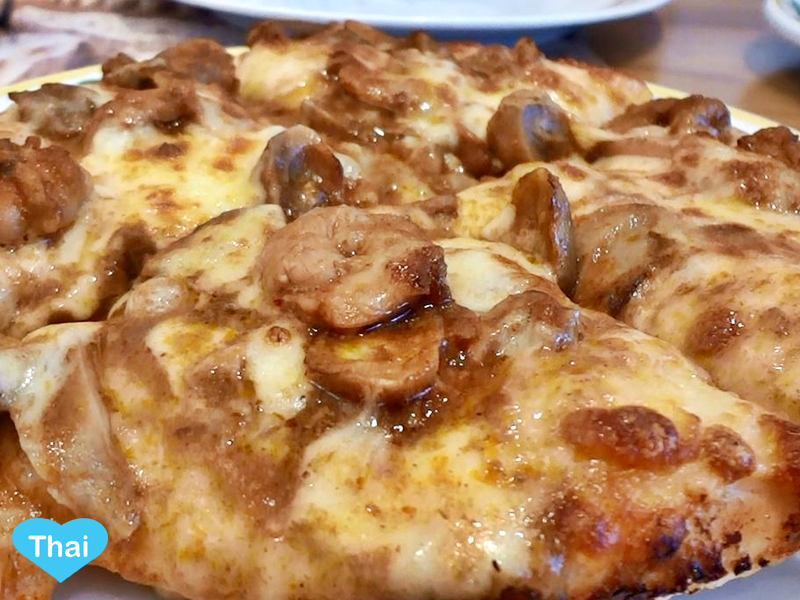 Even though The Pizza Company is a Thai company, but it's qualified on this article since you can only find Western food at the restaurant. What makes The Pizza Company on this list is that they offer Thai flavored pizza. Unlike its competitor (Pizza Hut), The Pizza Company put Tom Yum Kung (Prawn in Spicy Lemon Grass Soup), one of the most famous Thai dished, in a pizza! We were skeptical about this at first. Once we tried, it's not bad at all. Indeed it's pretty cool to have Italian and Thai food at the same time! Tom Yum Kung Spaghetti and Green Curry Chicken Spaghetti are also ready to be served there.
Swensen's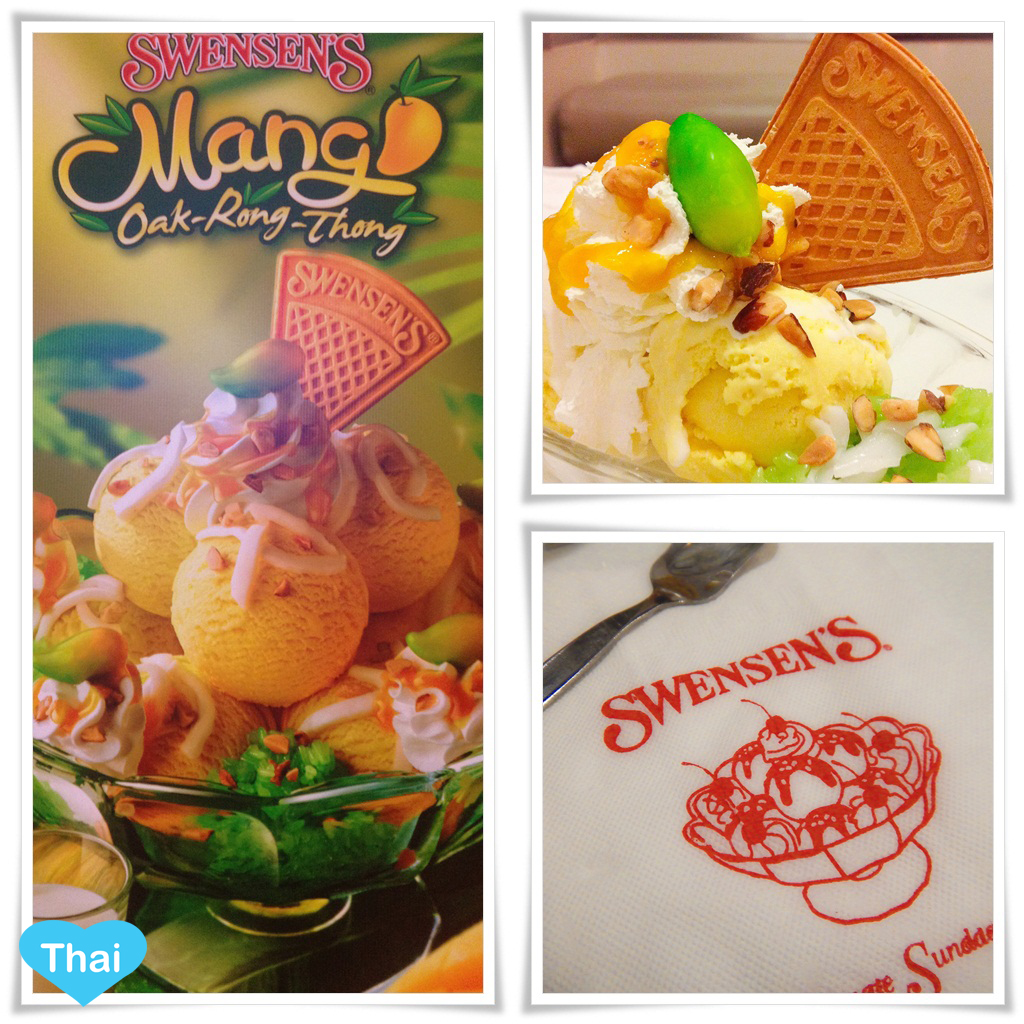 After those exotic Thai-Western dishes, it's time for ice cream! Swensen's ice cream in Thailand is very different from its San Francisco origin.  It offers so many flavors including mango for Mango Sticky Rice Ice Cream. We LOVE this specialty that is only available in summer. It's refreshing and not too heavy for the very hot summer months in Thailand. You can even go lighter with Mango Smoothie Shake. For advanced Thai fruit lovers, you can also order Sticky Rice Ice Cream or Mangosteen Sorbet too!
Have fun exploring this unique experience and share your experience with us and Thailand lovers using #LoveThaiMaak on Instagram.