Bangkok Water Transportation – The Way To Go
There is nothing better than feeling the breeze on the sunny day while watching Bangkok lives along Chaopraya river. This is one of the best transportation Bangkok has offered so far. Not only there is no traffic in Bangkok rivers and cannels, but you will enjoy Bangkok precious riverside attractions. How precious? Look at the picture below!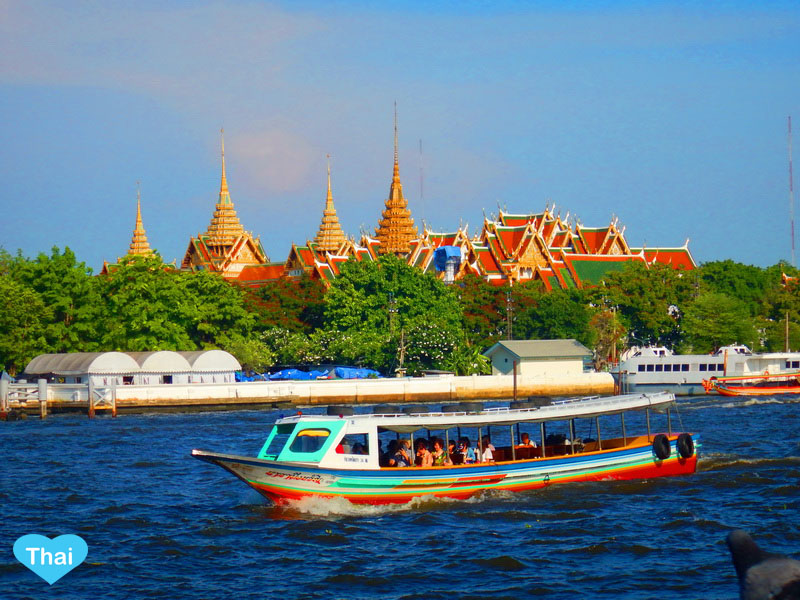 Traveling by water transportation in Bangkok is very easy, inexpensive and EXCITING! If you are ready to explore, there are 3 main types of water transportation that you can try easily and it will take you to the famous places such as Grand Palace, Wat Pho, Yaowarat (China Town) and Khaosan Road.
Chao Praya Express Boat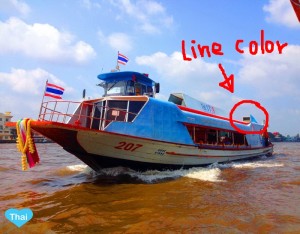 Chao Praya Express Boat is a large boat that has 5 types of services. The differences between each type are number of stop and the length of each route. Pricing depends on distance and types of Boat. To know each type of boat, look at the flag colors on the roof around the end of the boat.
Here are the differences between boat lines:
The regular line (no colored flag, only Thailand flag) stops every pier from Wat Ratsingkorn to Nonthaburi (33 Piers , Price starts from 10 Baht)
Orange line has 15 stops and only 15 baht from Wat Ratsingkorn to Nonthaburi
Green line has 13 stops from Sathron to Pakkret (Price starts from 13 to 32 Baht.)
Yellow line has 10 stops from Wat Ratsingkorn to Pakkret (Price tarts from Baht.)
Blue line has a guide who will describe famous places on the riverside from Sathron pier to Phra Arthit pier (fixed price at 40 baht.) We recommend this line because it won't be packed like other line with English speaking guide.
Important Piers You Should Know:
 Sathorn Pier near Shangri-La Hotel
Oriental Pier to Oriental Hotel
Si Phraya Pier near River City
Rajchawong Pier near Yaowaraj (Bangkok Chinatown)
Tha Tien Pier near Wat Pho, Grand Palace
Maharaj Pier near Sanam Luang
Phra Arthit Pier near Phra Arthit Road, Khao San  Road and Banglumpoo
Chaopraya River Ferry Boat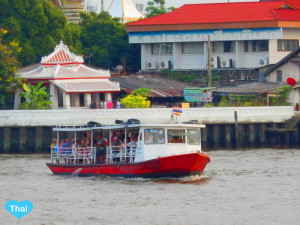 Ferry crossing Chaopraya river is very cheap (only 3 Baht.) This is a very local boat for crossing while see the way of Bangkok lives. Often time, you will get a very good photo shots of the real Bangkokians
These Are Popular River Crossing Piers :
Tha Chang –  Tha Wat Ra khang
Tha Chang –  Wang Lang
Tha Tien – Wat Arun
Khlong Saen Saep Boat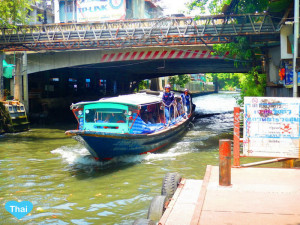 This is it! There can't be more local than this cannel boat. Khlong Saen Saep Boat is a very fast boat runs along Khlong Saen Saep cannel (or Klong.)  . Klong Saen Saep Boat has 2 lines. This first one is Sri Boon Rueng Temple-Pratunam and Second line is Pratunam-Panfa Leerard . That being said Pratunam is interchange pier with a lot going on around the pier such as huge shopping more and Bangkok Most Famous Shrines. Because of this boat runs very fast, you have to be a little more careful when you get on and off the boat. A money collector will come to get your money (less than $1) and give you a ticket while the boat is running, so you don't have to worry about buying ticket before hop on the boat.
Check These Piers Out:
Pratunam Pier  near  Centralworld , Platinum, Pantip Plaza
Saphan Hua Chang Pier  near  BTS  Ratchathewee Station, MBK, Siam Center
Panfa Leelard Pier near Golden Mount, Khao san.
Warning: The water in Khlong Saen Saep cannel is not the best smell in the world, so be prepared!